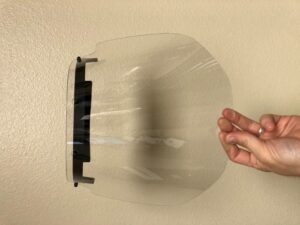 Protective Face Shield TearOffs
Description
Positive airflow face shields must be cleaned with anti-septic cleaners.
The Problem
Face shields must be cleaned, disinfected with each new case. Plastic shields degrade when sanitized with alcohol-based wipes, becoming "foggy", scuffed and scratched.
The Solution
TearOff Products developed a face shield called a "Flu Shield" to protect front line workers from bodily fluids. Flu Shield provides enough firmness with flexibility, covering 180 degrees of protection for the user. The patented coating has near zero "surface tension" – lowest possible adhesion (nothing sticks). Flu Shield "Silica Bead" coating acts like a thin layer of glass, for complete and efficient cleaning Flu Shield is 4 layers of protection, so the top layer can be removed at will revealing a clear, clean new surface… a surface area that can be disinfected with alcohol and other antimicrobial cleaners – with no damaging effects on the surface.
Benefits
Maintain visual acuity
Scratch resistant technology
Decreased light refraction
Alcohol, Oil & Chemical resistant
Cleans easily
Low surface tension releases adhesion by most matter