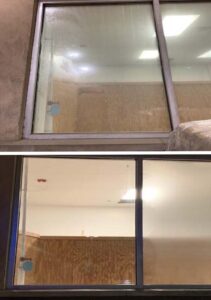 Project
Concrete Concentrate / Home Depot / Retail Glass Protection

Description
Store front windows need protection from concrete dust concentrations.
The Problem
Location windows become damaged, obscured with concrete dust concentrate, and vandalized with graffiti.
1. Dust from palletized bags or concrete, becomes airborne and settles onto store front glass windows. Evening air has high humidity, activating the concrete dust that cures overnight, bonding material to the glass.
2. Vandalism – graffiti is scratched into glass surface.
The Solution
The client placed custom made 4 layer stacks of TearOffs on their store front glass and Lexan entrance doors. With near zero surface tension, concrete dust doesn't bond well, allowing the windows to be cleaned with traditional methods. Surface scratching is removed on a quarterly basis by pulling the top layer. Graffiti removal can be managed significantly faster by removing the vandalized layer, as soon as the damage is discovered, reducing repeat offences.
Benefits
– Maintains visual acuity
– Scratch resistant technology
– Renewable surface
– Accepts squeegee and cleaner contact with ease
– Absorbs impact energy
– Simple cleaning reduces the need to remove top layer
– Low surface tension releases dirt, concrete dust