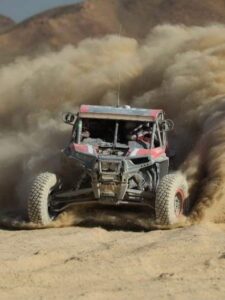 Description
Desert Baja racing in Polaris RZR UTV
The Problem
Sand, flying rocks and granite pumice, sage brush – these are real and constant combatants in the desert racing environment. LED lighting systems receive heavy pitting, scratching and scarring on the lens that protects the lighting element, which will defuse the power of the lumens (the ability to light the darkness) Competing at high speeds, the impact of the pebbles, sand, grit and other media damages the clear lens surface, resulting in light refraction and diminished vision.
The Solution
Brett Ward Racing applied our 4 layer, 4 mil thick "stack" of TearOffs to their Vision X lighting surface. During heavy traffic, sacrificing the removable layers and preventing damage to the lighting system. The surface layers can be easily cleaned, or removed in a pit stop, before nighttime racing begins. 4 layers last a full season or longer.

Benefits
– Maintains light Lumens
– Scratch resistant technology
– Renewable surface
– Reduces significant lighting loss
– Simple cleaning reduces the need to remove top layer
– Chemical resistance to motor oils, brake fluids, engine coolants.