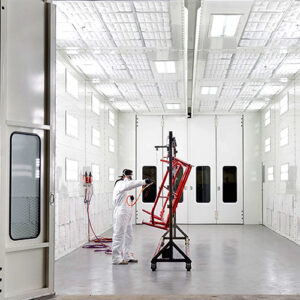 Spray booth light fixtures need protection from paint overspray.
The Problem
Critical lighting used for accurate and precise coating applications, become obscured overtime. The diminished lighting can cause quality issues in coating thickness.
Overspray paint particles become vaporized, landing on the light fixture lens.
Light lens is made of plastic and scratches easily during cleaning; doesn't accept cleaners.
Replacing light fixture lenses causes loss of production, additional costs.
The Solution
The client applied custom made 52" x 19" 4-layer stacks of TearOffs on their light fixture lens.
With near zero surface tension, paint particles can't bond well.
TearOffs protective coating allows the surface to be cleaned with traditional cleaners.
4 layers of sacrificial surfaces.
Once light luminosity reaches unacceptable quality, simply remove the top layer
Benefits
Maintains visual acuity
Scratch resistant technology
Renewable surface
Accepts squeegee and cleaner contact with ease
Absorbs impact energy
Simple cleaning reduces the need to remove top layer
Low surface tension releases dirt, concrete dust
4 layers provide 12 months of protection