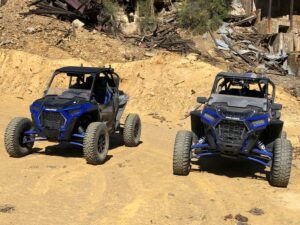 Project
Polaris UTV Windshield
Description
Polaris RZR with Super ATV half windshield scratches easily during cleaning.
The Problem
UTV owner attempts to clean dried mud, dust and grit from his half windshield after recreational trail rides. The windshield scratches very easily, and lifespan diminishes with every cleaning leaving more scratches and hazing in the plastic surface.
The Solution
The UTV owner applied our 4 layer, 4 mil thick "stack" of TearOffs to their plastic window surface. An impact from rocks, gravel, cactus, tumble weeds, mesquite branches and most other brutal desert media is absorbed by the stack, and any abrasion is captured by the removable layers preventing damage to the UTV operators windshield. The surface layers can be easily cleaned, or removed before riding begins. 4 layers last several full seasons.
Benefits
– Maintains visual acuity
– Scratch resistant technology
– Renewable surface
– Accepts windshield wiper contact with ease
– Absorbs impact energy
– Simple cleaning reduces the need to remove top layer
– Low surface tension releases dirt, scuff marks